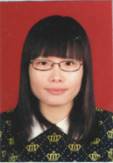 Yunxia Lin(林云霞)
Ph.D. student, PARNEC Group
College of Computer Science and Technology
Nanjing University of Aeronautics and Astronautics
Supervisor: Prof. Songcan Chen
e-mail: linyx@nuaa.edu.cn
I'm a second year Ph.D. student of College of Computer Science and Technology in Nanjing University of Aeronautics and Astronautics and a member of PARNEC Group.
Before my Ph.D. career, I received my MA.Sc. degree in Communication and Information System in June 2017 from Lanzhou University.
In the same year, I was admitted to study for a Ph.D. degree in Nanjing University of Aeronautics and Astronautics without entrance examination.
My research interests include: Pattern Recognition and Machine Learning. Currently, I'm focused on:
Conference Articles
Yunxia Lin, Yi Wan. A New Gray-Scale Watermark Method based on Irregular LDPC Codes with Unequal Error Protection (UEP)[C], 2016 8th International Conference on Digital Image Processing (ICDIP 2016), Chengdu, China, May 2016.
Journal Articles
§ Yunxia Lin, Songcan Chen, A Centroid Auto-Fused Hierarchical
Fuzzy c-Means Clustering, IEEE Transactions on Fuzzy Systems
, 2020, in press. DOI: 10.1109/TFUZZ.2020.2991306.
Mail
linyx@nuaa.edu.cn
Yunxia Lin Pattern Recognition & Neural Computing Group Nanjing University of Aeronautics and Astronautics
Nanjing 211106, China