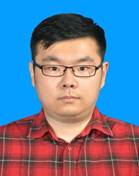 Shuo Huang(黄硕)
Ph.D. student, PARNEC Group
College of Computer Science and Technology
Nanjing University of Aeronautics and Astronautics
Supervisor: Prof. Daoqiang Zhang
e-mail: 525119192@qq.com
I'm a first year Ph.D. student of College of Computer Science and Technology in Nanjing University of Aeronautics and Astronautics and a member of PARNEC Group.
I was a B.Sc. student in Software Engineering of Software College in Northeastern University from 2011 to 2015. In 2016, I was admitted to study as a MD-PhD student and began my Ph.D. career in 2018.
My research interests include: Machine Learning and Computational Neuroscience. Currently, I'm focused on:
Deep Learning methods in task-based fMRI brain images' functional alignment.

Generative Adversarial Networks (GAN) is one of the most promising methods for unsupervised learning in complex distribution in recent years and used to reconstruct stimulus images.
Conference Articles
Journal Articles
Mail
Shuo Huang, College of Computer Science and Technology for Nanjing University of Aeronautics and Astronautics
Nanjing 211106, China