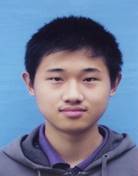 Zhen-Xing Xu(徐振兴)
M.Sc. student, Parnec Group
Department of Computer Science
Nanjing University of Aeronautics and Astronautics
Supervisor: Prof. DaoQiang Zhang
e-mail:290007431@qq.com
I'm a first year M.Sc. student of Department of Computer Science and Technology in Nanjing University of Aeronautics and Astronautics and a member of Parnec Group.
Before my M.Sc. career, I received my B.Sc. degree in software engineer in June 2016 from Northwestern Polytechnical University.
My research interests include:Computer Vision and Machine Learning.
Correspondence
Mail
Zhen-Xing Xu Department of Computer Science
Nanjing University of Aeronautics and Astronautics
Nanjing 210016, China